Introducing Greg Christman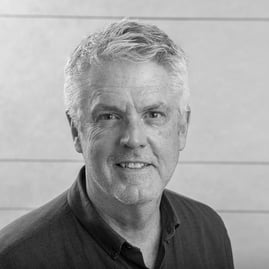 AB design studio is pleased to present Greg Christman, Project Architect based in our Santa Barbara office!
Every successful firm needs someone like Greg Christman on staff: an architect with decades of experience who knows how to get things done; who can carry a design from hand sketching to three-dimensional modeling to straightforward construction drawings; who mentors young architects and gives AB's founders a sounding-board.
Yet to his credit, being a veteran architect is only part of what makes Greg tick.
He's an accomplished photographer whose work has been exhibited in galleries and who acts as AB's in-house documentarian. And he's an environmentalist who is saving a local beach when no one else could. Greg is also a survivor of both tragedy and a surprising near-miss involving a great white shark. But one thing's for sure: Whether mountaineering, skiing, scuba-diving, surfing, fishing, or simply in his home workshop making stuff from wood and metal, he's not one to sit around.
Editor, Mentor, Confidante
Greg is known at AB design studio for his red and blue pencils. "It's taking a set of plans we produce, checking them for design intent and making sure it's readable, then buildable," he explains. "We have some great 3D modelers, and early in their careers it can be tough translating that to 2D construction drawings. So I'm the guy who acts as a kind of editor, saying, 'This is how the field is going to look at this.' It all comes down to my two colored pencils: blue for instructions and red for, draw it like this." But lest young architects be made anxious by all Greg's corrections, he says not to worry: "Before I had a good 10 years of experience, I was probably making the same mistakes." Yet Greg also wants people to learn. "It's like my first boss at an architecture firm told me: 'Every line means something.'"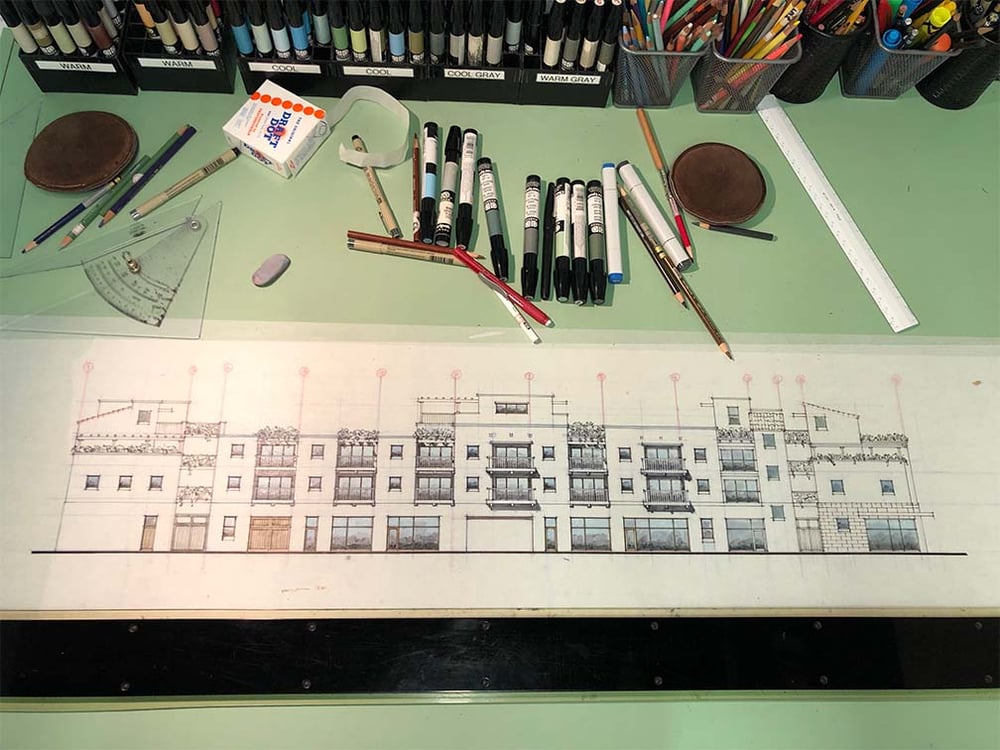 [Image credit: Greg at work, Santa Barbara, CA - AB design studio, inc.]
At the same time, Greg has a unique relationship with AB's founding partners, Josh Blumer and Clay Aurell, perhaps like a veteran assistant coach who has never been a head coach himself. Greg actually is now in his second stint at AB, and previously opened the firm's Los Angeles studio back in 2014.
"I enjoy AB's youthful culture," he says. "In the past, I'd worked for architects that were 20 years older than me, and learned from them. Now it's kind of a reverse situation, where they're looking to me as the elder guy with the experience to help them out, especially with their junior people, and to be their backstop to keep a project from running off the rails. But I appreciate that AB is always pushing what is possible, and perceptibly impossible, and doing it with authenticity and integrity."
Although Greg is an experienced residential designer, including several years running his own studio, today he enjoys working on larger scale commercial, hospitality and residential projects, such as hotels, multifamily housing and mixed-use.
[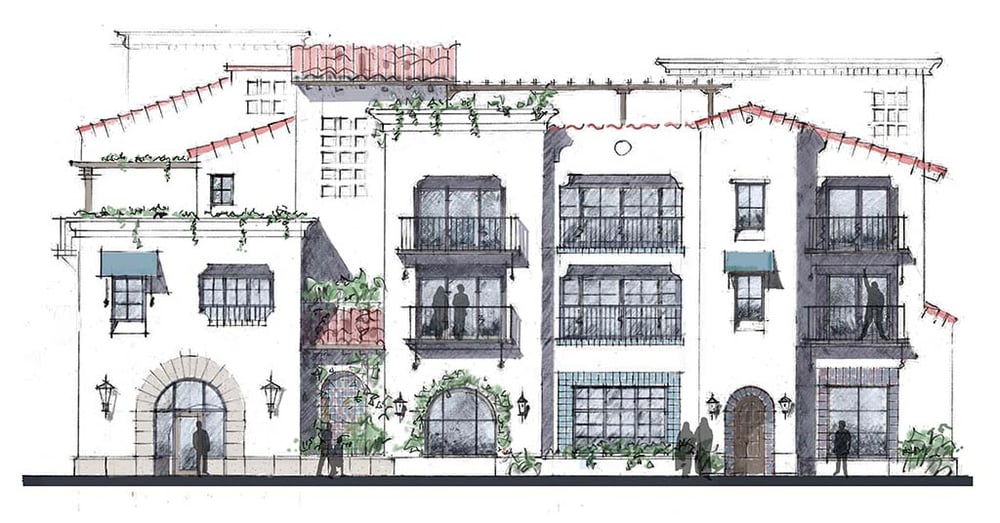 [Image credit: SoCo Multi-Family Concept, Santa Barbara, CA - AB design studio, inc.]
Beginnings
Greg grew up in the Santa Barbara area from the time he was a toddler. From an early age, he was curious, taking apart things like motors, and bikes with his friends and even drawing floor plans to the houses he lived in. But after high school graduation, he initially went to college to study photography. "Honestly I wasn't really sure what I wanted to do," he says. Greg left school and spent a few years in the mountains working in construction, learning framing and carpentry.
"I actually almost cut my thumb off once, and another time I almost cut my arm off with a chainsaw. I started to think, construction was not for me," he remembers. "But there were still these few instances, while working on a framing crew, where I thought, 'Why did the architect design it this way? I would have done something different.' That original vision that I had as a kid to be an architect started to come back. I decided to study architecture. But a lot of that construction experience actually turned out to serve me well in architecture because I knew what it was like out in the field and understood the basics of how a building comes together."
Entering the Drafts + Rising the Ranks
Greg is an uncommon architect in that it's almost exclusively his experience that got him to professional architectural licensure. After finishing an intensive two-year degree program, Greg entered the profession with a solid position as an architectural draftsperson at a local firm in Costa Mesa. After completing eight years of practical experience, Greg qualified for professional licensure and passed the exams required to become licensed.

[Image credit: Cordillera Ranch Residence, Edwards, CO - Zehren and Associates]
Early in his career, Greg spent five years working for Vail, Colorado firm, Zehren and Associates, where he specialized in high end second homes, many in partnership with a local realtor-developer.
"The realtor would call me and say, 'Greg, I've got this couple in town. They have five lots on their list to possibly build their dream mountain home on. Would you ride around with us and help them decide? I'd go draw some sketches as they looked at a property: 'Well, your driveway is going to come in here, you'll have the views this way.' By the end of the day, they'd say, 'I think lot number five is what we're going to go for. The realtor would look back over her shoulder at me going, 'Good job. You sold it for us.' And most of the time our firm would wind up designing the home. I really enjoyed that, just helping people realize what an architect can do for them, and then taking a project all the way through construction to move-in."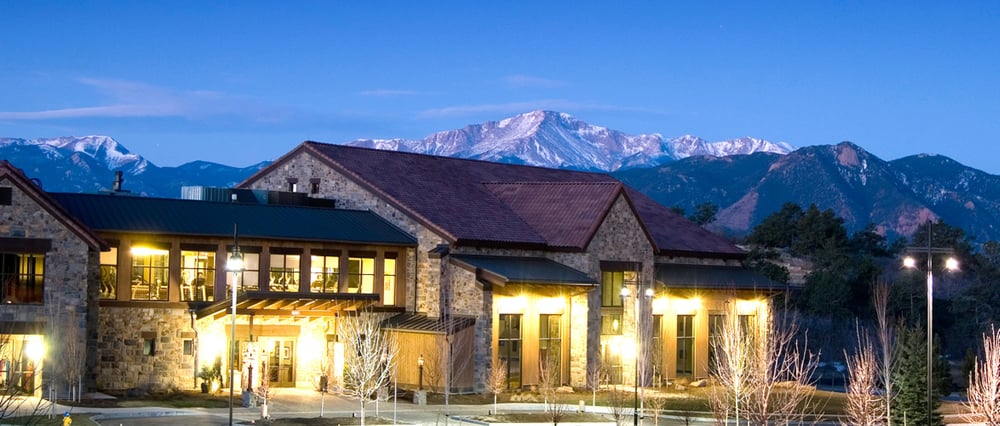 [Image credit: Flying Horse Athletic Club and Spa, Colorado Springs, CO - B3 Architects]
Greg next returned to his native Santa Barbara area, spent eight years working at B3 Architects, rising to the role of managing director and working with developers of resort communities across the country. Founded by the late Barry Berkus, who over the course of his 60-year career designed an astonishing 600,000 houses and expanded from Santa Barbara to offices across America and east Asia, the job gave Greg his first chance to rise up the ranks of a firm and enter a leadership role. He next moved to Carpinteria firm Neumann Mendro Andrulaitis, hired as the firm's design director.

[Image credit: Gaudi Inspired Tea Fire Rebuild, Santa Barbara, CA - GDCA]
In 2009, however, Greg's career took a back seat when his family experienced a tragedy: losing one of his two daughters to cancer. Leaving his design director job, Greg went on a photography walkabout, founded his own firm, and for four years designed a variety of residential and mixed-use projects almost entirely on his own. It was maybe a necessity for more solitary time, as Greg crafted a new sense of work-life balance. The photography journey, besides being cathartic, produced a series focusing on the Gaviota Coast. Endangered Landscapes was displayed in a few galleries in 2010- 2011 and brought needed awareness to the largest stretch of undeveloped coastline remaining in Southern California.
AB to AB
It was actually AB design studio that gave Greg a new firm to call home again. In 2013, he was hired by the firm in Santa Barbara as a project manager for a couple of high profile Santa Barbara projects. Then in 2014, he sold Clay and Josh on the idea to open an LA office and volunteered to be the guy to manage it. Today it's a successful studio that produces some of our best work, but it took time to establish the firm in America's second-largest city. And Greg was still searching for the right fit himself. Just under two years into the job, he and AB's partners parted company, but on respectful terms.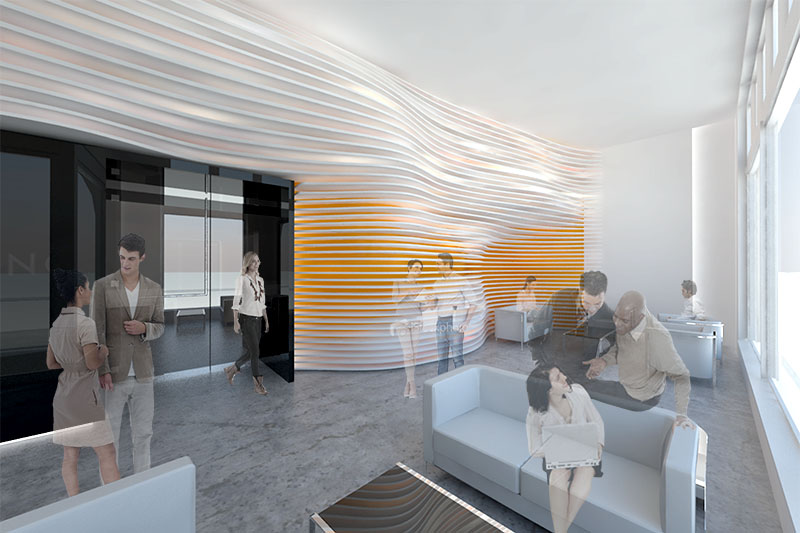 [Image credit above: Sound Wave Entry Concept, Image credit below: MOXI - The Wolf Museum of Exploration + Innovation, Santa Barbara, CA - AB design studio, inc.]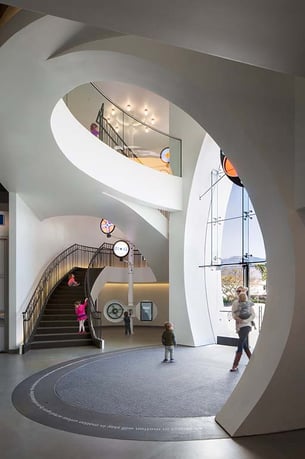 As the economy boomed in the mid-2010s, Greg was able to keep busy, again running his own sole proprietorship and drawing from decades of experiences designing homes across the American west. But he yearned to be part of a team again. And as it happened, Greg and AB's Josh Blumer had found a way to keep talking. In December 2017, Greg accepted an offer to return. And over these nearly five years, he's found his place at the firm.
In addition to his work as a project architect, one of Greg's favorite roles at AB taps into his artistic side, as a photographer. He takes all the employee headshots, and also acts as a roving candid picture-taker, capturing the firm's process.
The Kelp Project
Greg takes perhaps his greatest pride in a project non-architectural, yet one that tapped his designer's problem-solving brain.
For generations, Goleta Beach at the eastern edge of the University of California Santa Barbara campus offered a wide swath of sand, with hundreds of acres of kelp beds protecting the coast from eroding currents. But after a series of intense storms in the 1980s, Goleta Beach began to erode more quickly.
Greg and his childhood friend Bob Kiel, a systems engineer with the Seattle Aquarium, developed a theory: that the kelp beds had protected the beach from erosion. They began to wonder: could they restore the historic kelp beds? Both experienced scuba divers, in 2003, they made their first attempt, deploying a series of granite columns into the sea bed. "Kelp spores landed on them and started growing right away," Greg remembers.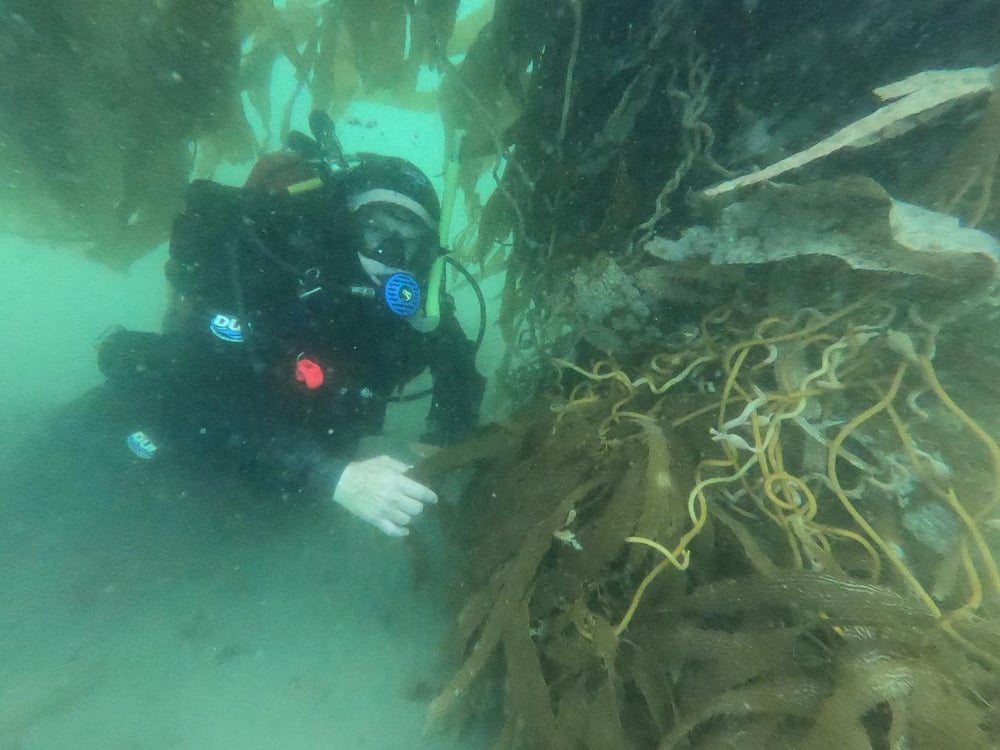 [Image credit: Greg inspecting his kelp in Goleta Bay for The Kelp Project, Goleta, CA - The Kelp Project]
But it didn't last. Crabs were eating the kelp, and in the historic kelp bed locations, what would be a predator to these kelp grazers? "The only thing that we could think of was an octopus." So they made and deployed several what they called 'octo-condos,' enabling octopi to move closer to the sand barrens where the sand dwelling kelp is trying to reestablish. "Sure enough, we came back four months later and each one of our chambers had an octopus in it and a pile of crab parts right outside each octo-condo, and all of our kelp plants were growing to the surface. Suddenly that was it." Today Goleta Beach has a better chance of naturally returning, but the restoration effort remains ongoing, through The Kelp Project (www.kelpproject.com) a nonprofit to scale up to 3500 octopus chambers, in a 220 acre area in Goleta Bay that will allow kelp to grow naturally as it once did centuries ago.
"It just goes to show that there's no better education than just practical experience," he says. "And it's a reminder to me that design is problem-solving. It's trial and error, and you fail forward sometimes. You can't be afraid of failure. That's how you learn."
Swimming with Sharks
We mentioned Greg is an experienced diver, and it was actually an outing with Josh Blumer that is one of his most memorable.
The original idea had been to go surfing at a remote spot up the coast in Greg's boat, but while waiting for the tide to drop, Greg decided to try to spear some lunch. Instead, he almost became lunch.
Moving through the water in his wet suit, mask and fins, "I had a spear gun in my right hand, was looking left and something brushed up against my right arm. It was a juvenile great white shark. It just kept swimming on." Greg safely returned to the surface and back to the boat, still clutching the spear gun and quickly got back in the boat.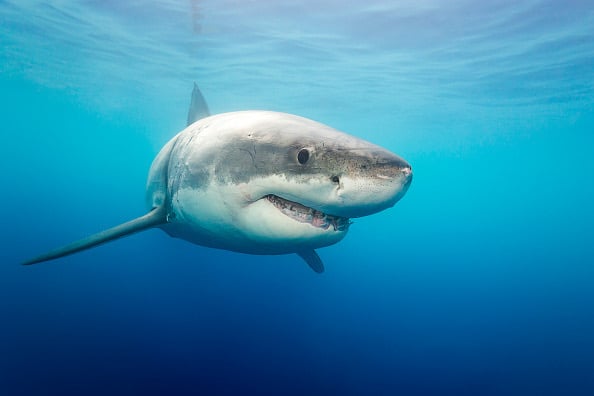 [Image credit: Stock Photography]
Today when he dives, sharks are "always on my mind. But then we make a point when we are diving to not spend a lot of time on the surface of the water. That's how any shark can mistake you for a seal and attack you."
That's Greg, somehow. He may not dive as much as he used to, but even a run-in with a great white shark won't keep this guy out of the water. Even a disappearing beach won't keep him from seeking the return of its sands. Even leaving a firm can eventually lead one back.
We're glad to have Greg on the AB design studio team. On or off shore, he's the kind of experienced, artful, cool-under-pressure problem solver we need—an octopus who helps our kelp beds grow.
Greg is backed up by the support of our talented and experienced architecture, interior design and urban planning team of professionals. Our 20 person staff is well-equipped to tackle a multitude of signature design driven projects of all sizes and typology. Our team develops well-rounded and thoughtful solutions to today's greatest design challenges. We deliver by leveraging the talent of awesome people, like Greg, who deliver our proven process each day; we deliver using a simple formula - LISTEN | STRATEGIZE | CREATE | DELIVER.
AB design studio, We produce signature designs for those who want more than just a building!