Forms + Surfaces Moves Offices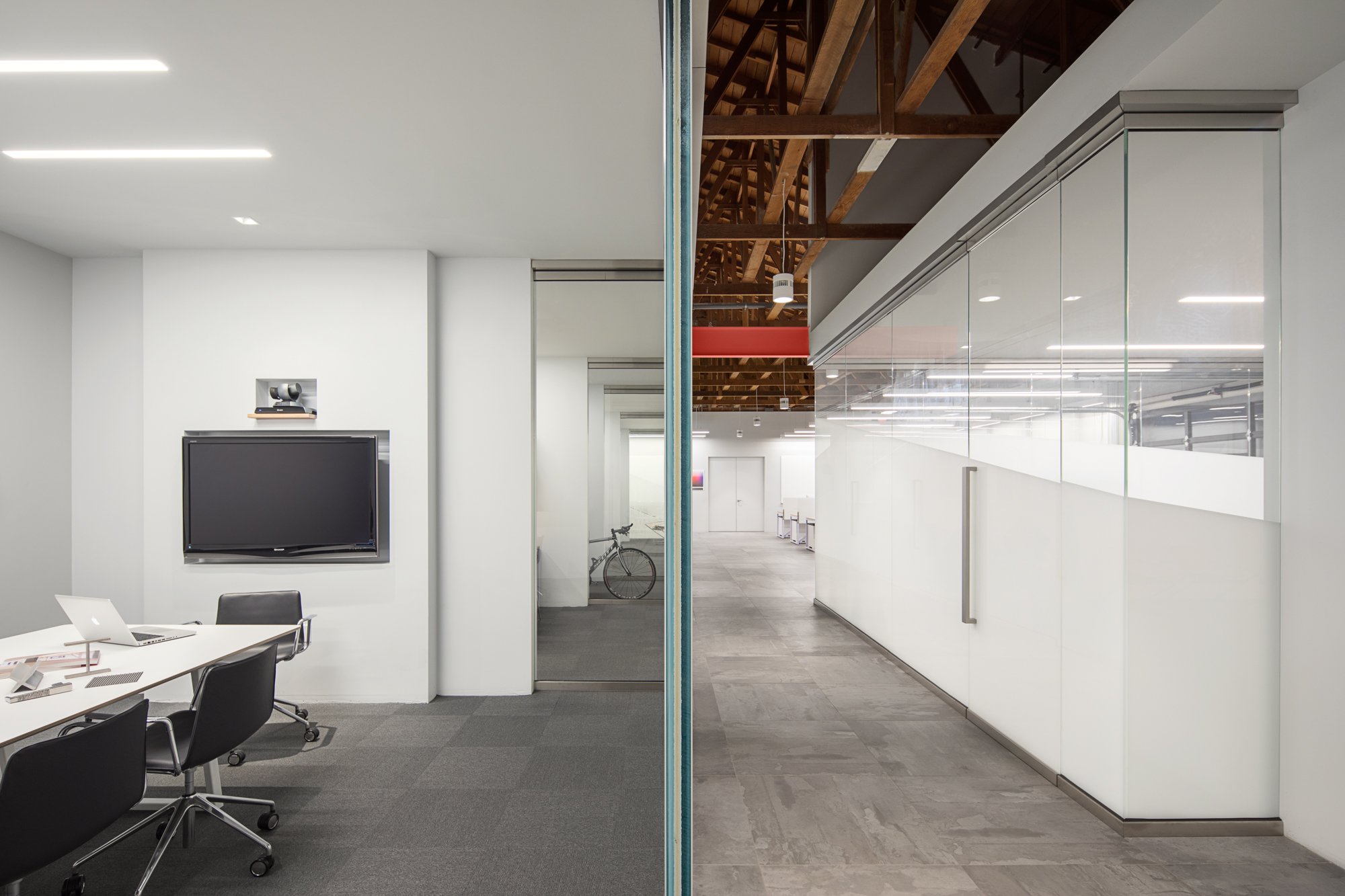 ---
The high-end architectural products brand moves into a converted California warehouse.
Forms + Surfaces prides itself on its creative, collaborative processes to help customers translate concepts into reality. The brand's messaging is perfectly represented in the new headquarters designed by Santa Barbara, Calif.-based AB Design Studio.
With offices and laboratory spaces located within a converted lemon-packing warehouse in Carpinteria - once the agricultural center of California's central coast -- the modern, open interior physically represents the Forms + Surfaces brand with highlighted products and spaces for experimenting with new textures and designs while encouraging employee collaboration among employees.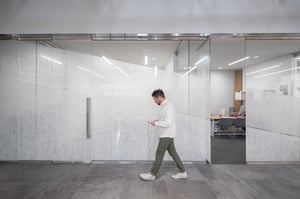 An etched-glass wall extending along the central corridor unifies the space. It also helps divide open and closed areas while reflecting the play of texture characteristic of the surfaces developed by the company. Patterned metal panels — a hallmark of the 50-year-old manufacturer — welcome visitors at the entrance. From there, the 80-foot-long glass "spine" features a striated, vertical pattern, cascading up and down on both sides of the glass panels that envelop a white silkscreened layer.
Wall Design Allows Light Penetration
Interior walls of offices, meeting rooms, and other spaces are set back from this feature wall, allowing for internal circulation and penetration of light through the glass boundary. The combination of solid and glass surfaces provides layers of opacity and transparency to vary the light and sightlines and create an inside-outside relationship within the interiors.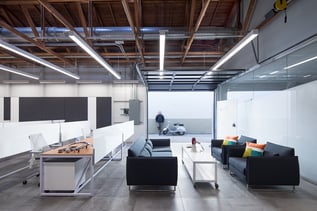 In the open office areas, custom workstations incorporate cherry-veneered tops that are pre-fabricated in Pittsburgh and assembled in Carpinteria. The materials library features a custom light table and grooved shelving to hold product panels. Throughout the open space and organizing spine, suspended strips of LED lighting mimic a Dan Flavin art installation
The headquarters allows Forms + Surfaces to remain in the city where it started and improve the quality of work life for administrative and design staff. Open, modern spaces allow for concentrated teamwork on new products, while for concentrated teamwork on new products, while restaurants and urban amenities are only a short walk away. The large roll-up door is more than a service throughway — it expands the casual collaborative conversation area to the outdoors, taking full advantage of Forms + Surfaces' coastal California location.
---
Written by: Interiors and Sources
Photography by: Erin Feinblatt
---