Currently Coveting Q1::22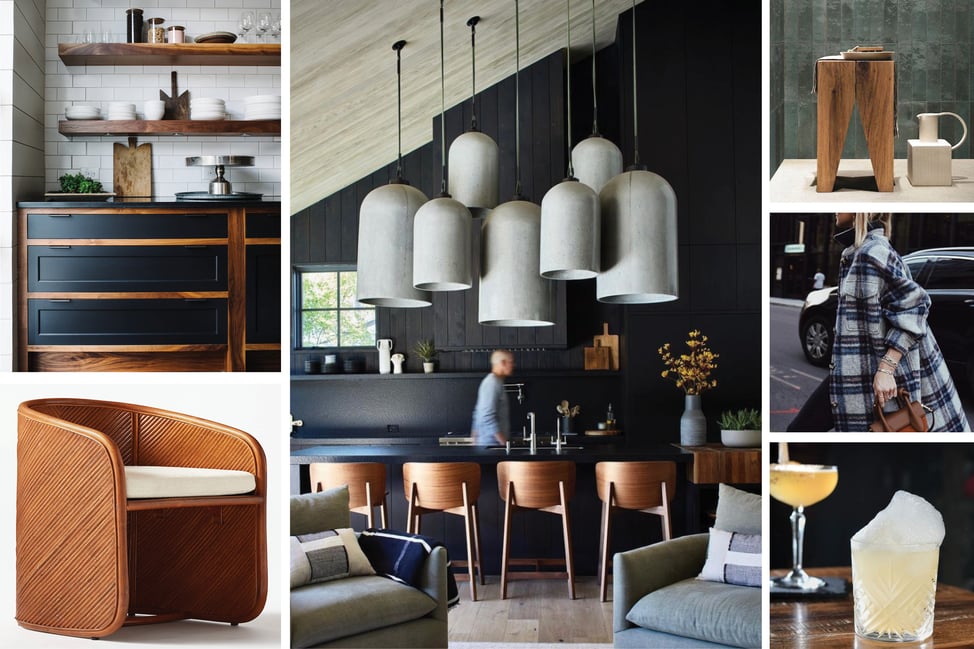 Part of the job in Interiors is to strike a healthy balance of fresh design with tried & true classics. We pride ourselves on remaining in the know about exciting innovations in materials, lasting trends and efficient construction methods. But, it's mostly through allowing ourselves the freedom to draw inspiration from all avenues of design, and sometimes just everyday life, where true innovation is found.

Through this design vigor we find ourselves frequently captivated. Here are just a few things we are Currently Coveting…
Number 1: Statement Lighting
Lighting design by Chris Buzzell, recently featured in dwell+, is simple but delivers a high impact! Statement lighting within a residential project can be tricky, but clustering pendants and hanging them at various heights creates a minimalistic and stunning focal point within a space. His installation nailed it! Below are images of this clustering technique that are a bit more subtle but still pack a big design punch.

[Image credit from left to right: Amber Interiors Design Studio, Lostine, CB2, Tribe Design Group]
Number 2: Soft Around the Edges
What's old is new again - but better! Curved lines and features once considered old fashioned, such as arches and rounded edges, are now synonymous with contemporary and on-trend, especially in furniture. Curves can be playful and fun, but they also have a unique way of softening a room, acting as an "exhale" among other items that have hard edges and angles like built-in shelving, coffee tables, and fireplaces. One of our favorite pieces is the Amato Rattan Dining Armchair from CB2. Check out a few more great examples below!

[Image credit from left to right: Lulu and Georgia, Anthropologie, Maddux Creative]
Number 3: Multi-Tone Cabinetry
Mixing metals in design has been a huge hit with our clients, but if you want to take your cabinet design to the next level, try mixing materials. Smith and Hanes executed this technique flawlessly in one of their recent residential designs.

[Image credit from left to right: SmithErickson Designs, PCDSA Kitchens, a1000xbetter]
Number 4: Muted Tones are the New Neutral
Post pandemic lock-down we received a lot of client requests for approachable, simpler design palettes. So instead of the standard go-to "Greige," we've been exploring more earthy tones. Muted greens & blues, blush tones and even "wood" tiles are fast becoming our new "neutral" favorites. The Magnolia distressed subway tile in Avio is versatile because it's bold enough to be used as an accent wall but also subtle enough on a larger scale. The best of both worlds!
[Image credit from left to right: tilebar, Porcelanosa tile used by M House Development, tilebar]
Number 5: The Shacket!
With the cold weather still lingering into early spring, maintaining that professional look and staying warm has been effortless with the intro of the Shacket! Not quite a shirt, not quite a jacket, this must-have staple has made early morning site meetings bearable! I especially love the exaggerated details like the lapel and large buttons on this version from Larkspur House.

[Image credit from left to right: Ascot + Hart, KoKo Fashion, SUNIFTY]
Number 6: Libation Love
After a long day in the design studio, we like to pop over to Lab Social for a well-deserved happy hour cocktail! To keep our creative juices flowing, we turn to our current favorite The "S.B. Margy." This unique twist on the traditional margarita is served with salt in the "air" instead of on the glass. Lavender salt foam sits atop a traditional margarita libation and blends perfectly with each sip. If margaritas aren't your thing, choose something else from their great selection of innovative, hand-crafted cocktails and get your creative juices flowing with us!

[Image credit: all Lab Social]