Clear Vision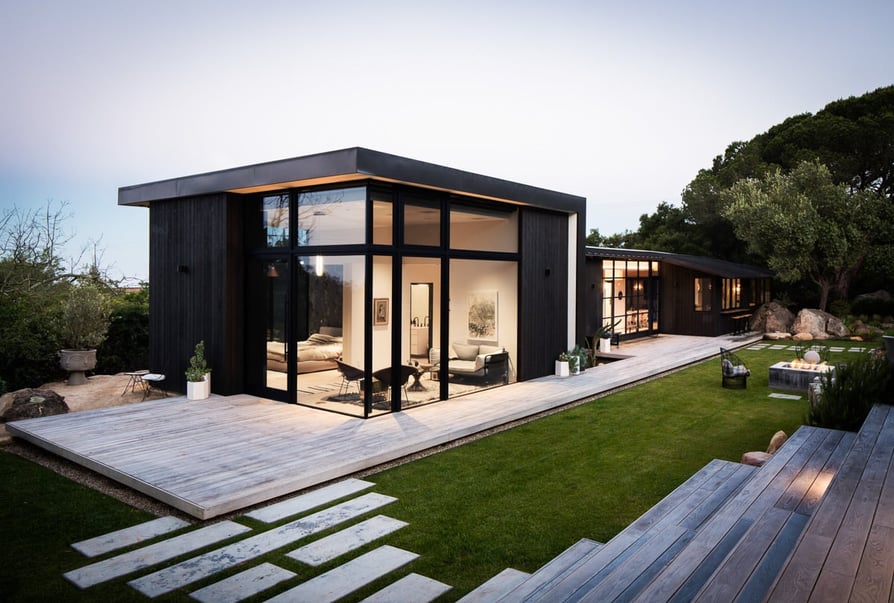 ---
A classic Lutah Riggs house gets an infusion of warmth and whimsy from designer | owner Tamra Kaye-Honey
Tamara Kaye-Honey's search for the perfect family weekend home for decades to come began and ended with a Lutah Riggs-designed midcentury house on a single, perfect acre in Montecito.
"My husband and I fell in love with the beauty of the land and the sense of community here by happy accident," says Kaye-Honey, aLos Angeles-based interior designer who works on both residential and commercial projects such as Otium restaurant at the Broad museum and the Colony Palms hotel in Palm Springs. Her husband, Ryan Honey, is the cofounder/creative director of Buck design and animation studio, and they have two teenage children, Phia, 16, and Streak, 14. They met as high school students in their native Canada, and after years in New York and then Los Angeles, they found themselves craving more direct access to nature for themselves and their kids. "As Canadians who grew up with cottages and water, we wanted a place away from the madness of L.A., which we love, don't get me wrong. We responded to its raw and sacred land, the sense of history and bohemian way."
They set their goal to find a modest home in Montecito and immediately discovered this rare gem, a Riggs-designed three-bedroom in need of a major overhaul. Working with local architecture firm AB Design Studio over the course of four years, they updated and expanded the layout just a bit by adding a glass master bedroom "cube" and another similar box as a guest suite. Riggs, who was the first woman to be named a fellow of the American Institute of Architects, and the first licensed female architect in Santa Barbara, left her fingerprints all over the area, building the Lobero Theater and the Vedanta Temple. And Kaye-Honey, who is not exactly an instinctive minimalist, truly embraced the challenge of restoring and then living in a more austere style. "Riggs was a legend of California design and loved creating uncluttered spaces that were livable and beautiful in an understated way," says Kaye-Honey. "She was known for her prominent gardens and that modern blur between indoors and outdoors, which I adore."
The house is designed to open up quickly, with few barriers between the living space and the surrounding woods and greenery. The gardens were Kaye-Honey's first experience with landscape design, and it's a testament to her creative confidence that she barely hesitated to reposition the massive boulders on the land and build an expansive deck, a chic pool, and cozy nooks for enjoying the views.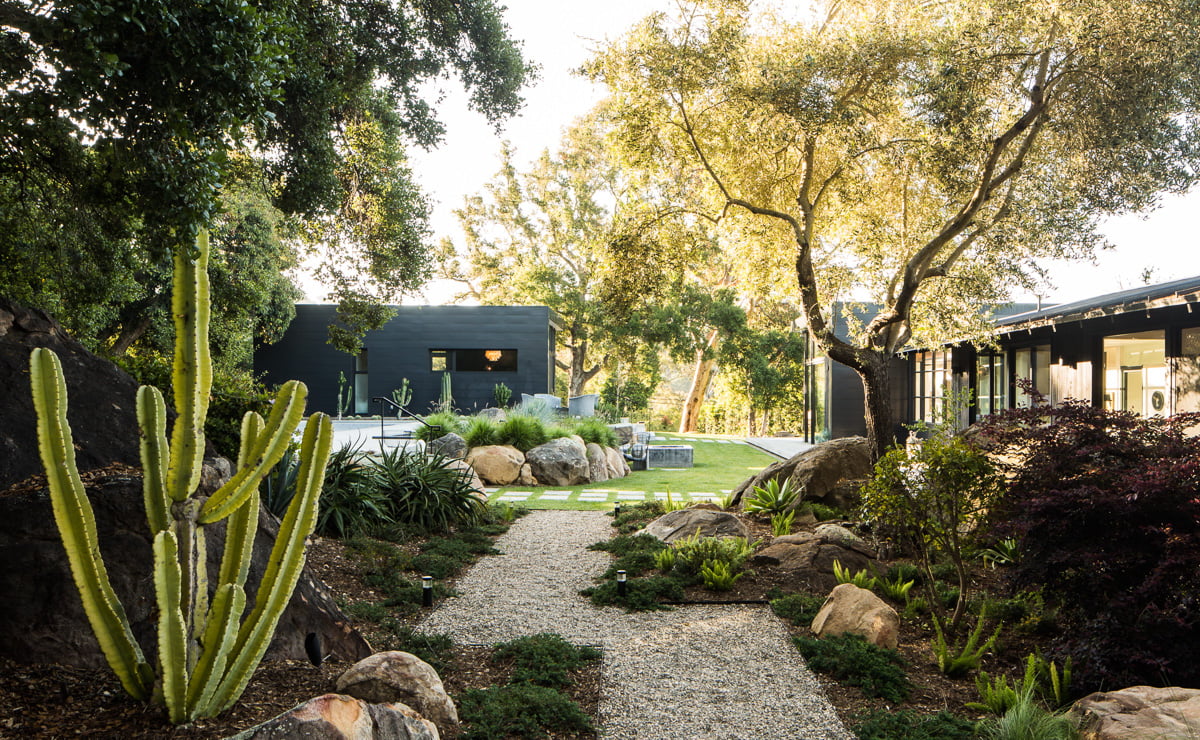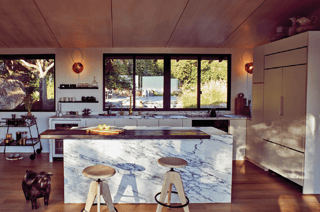 "I worked with the local company Progressive Land-scape on the garden, which was so much fun that I've become obsessed with doing my own landscaping for projects," she says. "I think the fact that the house is completely exposed and accessible to the outside spaces is my favorite concept. That flow is an important part of a modern lifestyle. I feel the same way about living rooms and dining rooms. They should be part of daily living and not just used on special occasion."
Kaye-Honey's instincts are pure luxe-maximalist so the restraint that's required not just to decorate but also live in a house like this was "challenging and liberat-ing," she says, forcing her to consider every last fixture and artwork very closely. More than a decade ago, she opened House of Honey, her first home decor shop in Pasadena, as a way to liquidate the vintage 1960s and '70s furniture and art she had acquired over the years at the urging of her husband, who wasn't a fan of the "crap in the attic." When they chose the area as their second home, she opened a store in Montecito in 2014.
In other words, throughout the construction process, and two narrow misses with the recent fires and mudslides, the Honeys have put down firm roots in the community and plan to enjoy it for decades.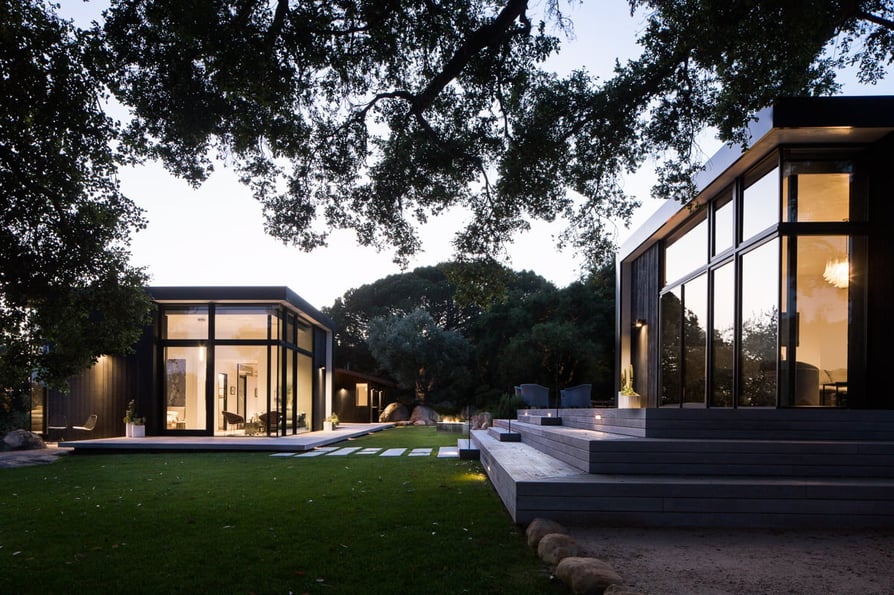 "I think of it as both our home and a future home for our children, and all of our relatives visiting from Canada. I imagine the kids getting married on the lawn, which is crazy to think about," she says. 'This beautiful jewel box is such a departure for me, but I just love the land and the feel of it all."
---
Written by: Christine Lennon
Photography by: Sam Frost and Jason Rick
---