AB design studio Brings Value Beyond Design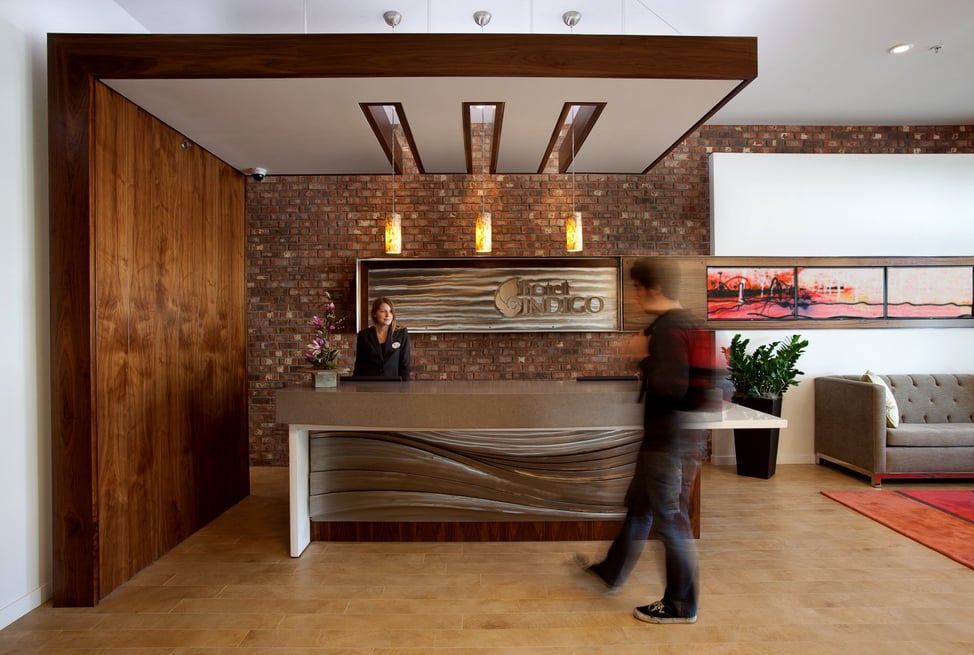 Earlier this year, the Santa Barbara News-Press reported the sale of Hotel Indigo for $19 million, representing a huge profit for its owners and the undeniable success of its renovation ten years ago, by AB design studio. The listing closed in only 45 days, about half the time of the standard 90-day closing period for hotels. "The hotel is really well done," broker Chris Parker of Radius Commercial Real Estate told News-Press reporter Katherine Zehnder. "It was renovated in 2012, and they did a good job delivering a nice product. There are a lot of smaller mom-and-pop hotels on the beachfront, making this hotel unique."
The sale priced out at almost $472,000 per room key. "That really said something different to me, because that's a big number for Santa Barbara," AB design studio co-founder Clay Aurell says. The initial pro-forma had an ADR (average daily rate) of roughly $245 which was conservative for this market, yet the hotel outperformed this ADR once open. "They've been really busy since they opened their doors." From business strategy to architecture to interior design, AB approached the project design holistically, going far beyond the role of a traditional architect.
"Creating a beautiful and memorable hotel environment isn't enough," co-founder Josh Blumer adds. "We're interested in creating great experiences that produce great results for our clients, and forming long-term relationships along the way."
When Clay and Josh first met the hotel's owners from InterContinental Hotels Group in 2010, the building had just been purchased out of foreclosure and most recently had served as a run-down youth hostel steps away from the beach in the heart of Santa Barbara's most trafficked tourist zone. With a coveted beachfront locale on State Street adjacent to the burgeoning Funk Zone district and its historic architecture, the circa-1928 building had potential. Yet the owners needed not just a physical restoration, they needed a plan to make this little hotel profitable.

For this hotel to be successful, the client needed enough rooms to meet and hopefully exceed their target ADR of $245. If that capacity couldn't be designed into the project, it might not go forward. That's why AB design studio works closely with developer clients to understand the metrics of a pro-forma before creating a blueprint.
"It all started with us really figuring out how to get more keys, and believing in small rooms as part of the mix," Clay explains. "We had to convince the owner that this would work because the demographic was a younger guest who wants to drop their backpack off and go to State Street, to the wharf, to the beach and go experience Santa Barbara. We really paid attention to their business model first: how this hotel had to work financially, and I think our diligence and attention to the owners pro-formas earned their respect and trust early on. We were able to actually help them formulate a better strategy for the business."

A traditional design approach would have given Hotel Indigo about 26 rooms rather than the 41 that were built. Yet the client had to be convinced to commit to smaller rooms that would double capacity "We said, 'You're going to have to do something different. You need to think more European: smaller and intimate," Josh Blumer recalls. "That constituted a risk. In the hospitality industry, there's a lot of norms and standards and it can be formulaic."
Yet AB design studio's partners knew they were on to something. They had traveled in Europe, where hotels with smaller rooms and compact bathrooms were common, and had seen that formula used to great success in America by the Ace Hotel chain, whose hotels in renovated old buildings had in the 2000s become the nation's hippest lodging brand. Ace gave AB's owners a second lesson: that if you created an authentic sense of place to go with the small rooms, locals would flock there, which in turn would also attract tourists.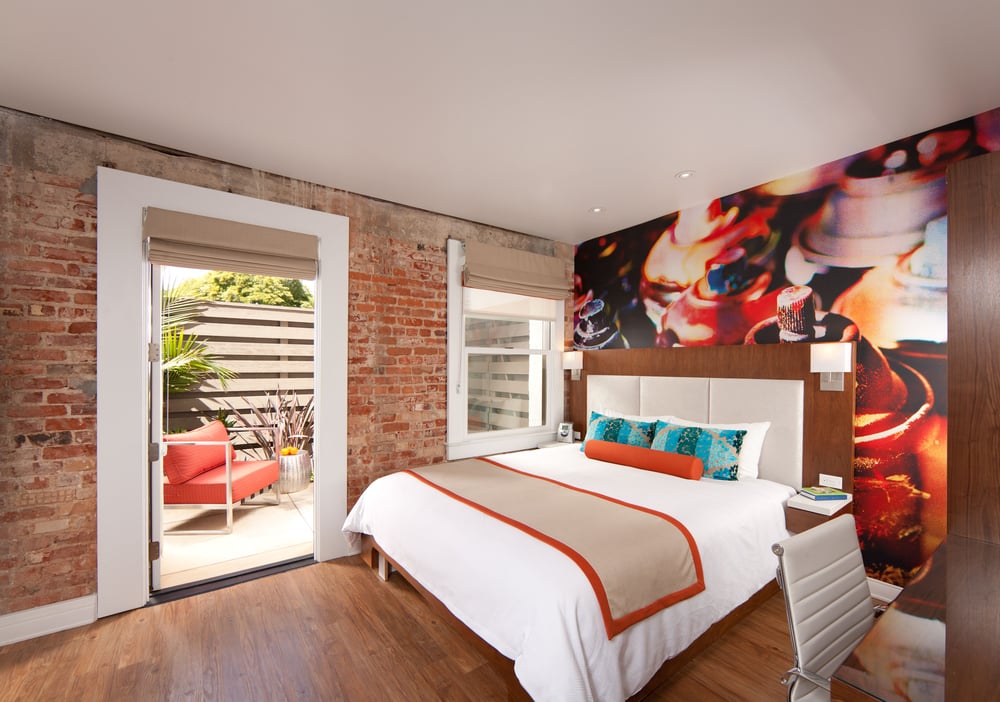 "I think it's a changing of the guards in terms of value structure," Josh explains. "There's a generation of people who actually feel more comfortable using up less space so long as the space is redeeming and of a high quality of design. I also think those smaller rooms feel personalized, and the more amenities you can provide the more comfortable the experience can be."
First, AB design studio had to make a nearly century-old building safe for another 100 years. "We had to overcome some pretty stringent engineering obstacles," Josh remembers. "This is a turn-of-the-century building sitting in a pile of sand in an earthquake zone. We had to not only come up with a cool idea for reconfiguring the floor plan, but we also had to deliver it to them on budget and help see the project through the construction process."
The client also needed an interior design solution to thematically define the Hotel Indigo brand standards, but not just interiors: a theme and vision. AB's designers knew the approach should be locally-rooted, and at first they considered a ranchers-and-surfers theme, pairing two of Santa Barbara's best-known cultural heroic personas. Then something more specific came to mind: local art. After all, Hotel Indigo was part of the Funk Zone district of downtown Santa Barbara, an industrial area turned artists' enclave. Why not celebrate it? "I had a relationship with the Museum of Contemporary Art in Santa Barbara. I sat on their board for about 10 years," Josh explains. "We sat down with their executive director and formed a strategic alignment," with some of the museum's artworks even loaned to the hotel for display. The design team also hired a photographer to take pictures of artist materials: watercolor paints, spray cans, camera equipment, paint brushes. In the end the solution was the creation of an "Art Hotel," the first of its kind in Santa Barbara. "The Indigo Brand manager told us we were the first ones to actually get their brand standard, and use it the way they meant it to be," Josh remembers.
To be successful, the hotel also had to function well. Josh, Clay and the AB team drew from their experience in both the residential and hospitality realms.
"When I'm designing a house, I'm really interested in how that family functions, like who they are as people and what makes them productive as a unit," Josh explains. "How do you keep everybody together yet also give them private space? Sometimes it is the little things, like having a back door where I can decompress, before greeting the family. It's the same idea at a hotel. There may be one guest already checked in and feeling comfortable, walking around the pool deck in a bathing suit with a cocktail in hand, owning the place. Then there's the guest who just arrived, sweaty from carrying bags and stressed out from the flight. You don't want those two people walking past each other. We think about all this stuff when we're designing: how to make sure it's the right experience."
In the decade since the hotel opened its doors on State Street, AB design studio and Indigo have kept in touch. That's a natural part of our process: making sure the client is happy not just at the moment of completion, but for years afterward. After all, it's the relationship that matters most.
"Every hotel is different, because everything that we're doing is about local conditions and your particular set of constraints. We're going to design around that," Clay says. "Once the client starts to see that they can trust you not just as a designer but a kind of problem-solver or strategic advisor, it really cements the relationship. That's when they really start calling you, and that's what we want."