Introducing Denise Rocha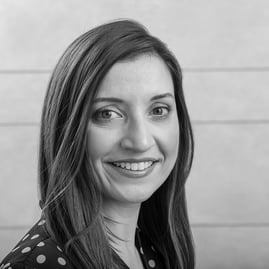 AB design studio is pleased to present Denise Rocha, Senior Project Manager based in our Los Angeles studio!
We are excited to introduce Denise Rocha, a Senior Project Manager who joined AB's Los Angeles studio last year. Denise's ties to the firm actually go further back, after first working at AB's Santa Barbara office in the late 2000s.
"I love the culture that we're creating here in L.A.," she says. "We're still part of the AB design studio family, but we're excited about expanding AB's portfolio with new project opportunities that L.A. offers. There's some big ideas about where we can go."
That she would happily return to AB design studio is, Denise believes, a testament to the relationship she formed with founders Josh Blumer and Clay Aurell. In the years after she left the firm, "I'd always get a happy birthday message from them, and check-ins from them," she remembers, "or when I would post on LinkedIn about starting a new job, they would write me, 'I'm so proud of you. Congratulations.'"
Denise has grown into her own as a designer and project manager. "I love designing everything down to the details of the fabrics and finishes," she says. "I want it to be beautiful, and sustainability is huge for me: using renewable and healthy materials. I think that we should all stand for that."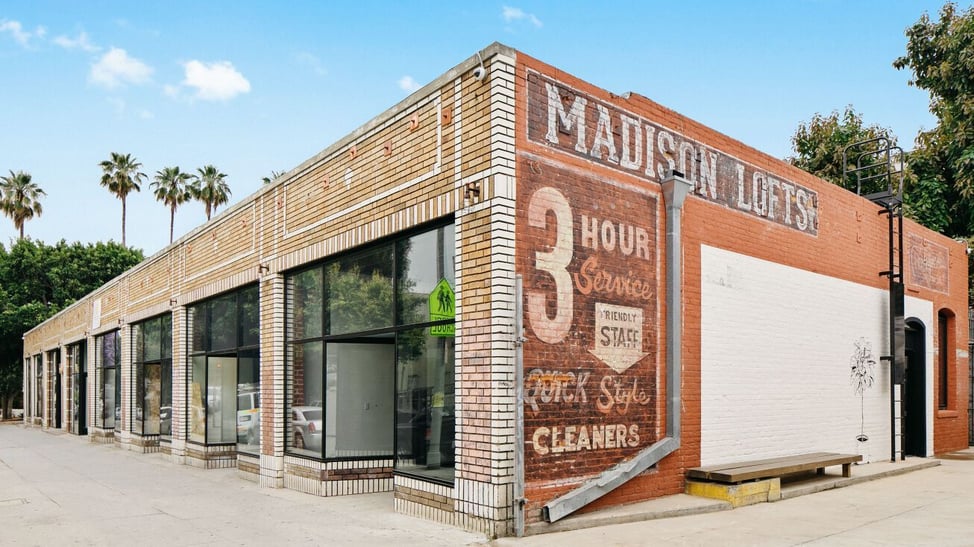 [Image credit: Madison Ave existing building, Los Angeles Silverlake District, CA - AB design studio, inc.]
Current Work
Since rejoining AB, Denise has worked on a wide range of projects, from residential to commercial to hospitality. For a client in L.A.'s Silverlake district, Denise is part of renovating a historic brick commercial building for a venture capital firm. "It's always fun working with startups because you get to help them out when they're just budding, and see their company grow," she says.
It's also a changing time for commercial clients worldwide. "Before the pandemic, a lot of offices were trying to condense everyone, but now, most companies are giving more space again, so their employees feel more comfortable being at work and not being on top of other people," she says. Yet even before the pandemic, offices were becoming more residential in feel. "They want it to be warm and comfortable. Let's give them different places that they can go, take their laptop and work, places that they can go to close their eyes for a second, places they can have a private phone call," Denise says. "And outdoor spaces: a lot more outdoor meeting rooms and lounge areas. Not everyone likes to sit at a desk all day, every day."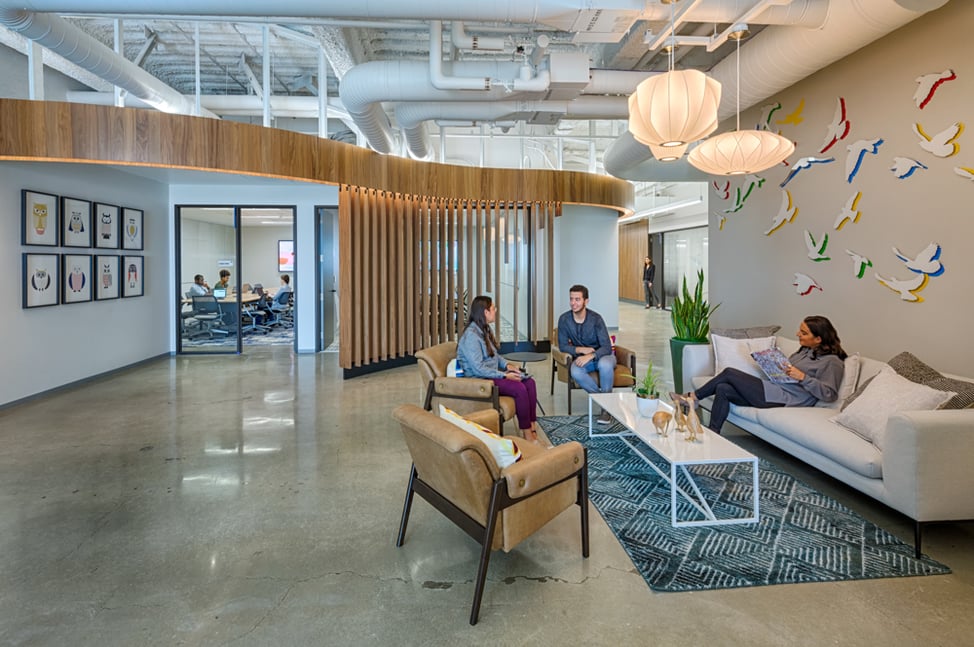 [Image credit: Google Pacific Shores, Redwood City, CA - Valerio Dewalt Train]
Denise loves it when she can surprise clients with what's possible, even on a modest budget. "They might expect something bare-bones. We tell them, 'We can get pretty creative within your budget,' she says. "I've suggested some furniture that's not expensive, but that doesn't look like it came from IKEA. Their reaction is, 'Whoa, that's what our space is going to look like?' Had they just bought furniture on their own, they would have ended up with your typical startup-looking office."
One of a project leader's most important roles is as a client advocate, ironing out the delays that can keep a business from opening. One of Denise's recent projects required compliance with an evolving series of code and permitting issues. "We can get you through the city process a lot smoother," she says. AB design studio project leaders inherit a decades old investment in the regional county and city agency processes for entitlement and permitting. AB has built trust and critical relationships with the regional jurisdictional agencies, typically the governing counties and cities, by fully understanding and investing in the design review, entitlement and permitting processes.
Inspiration from Mexico to Denmark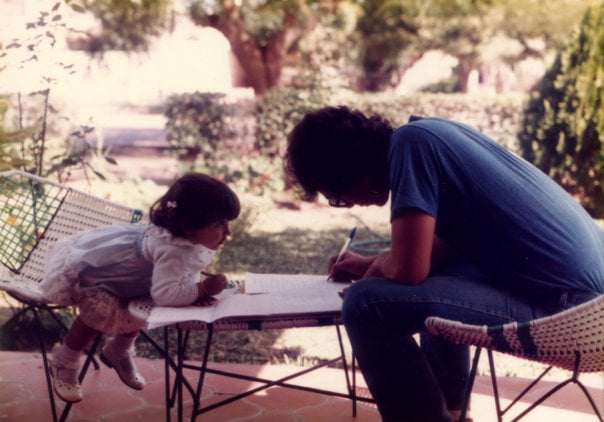 [Image credit: Denise helping her uncle, Mexico - Denise Rocha]
Raised in suburban Fremont, California, Denise knew she wanted to be a designer from a young age. During a series of summertime family visits to Mexico, she got inspired by an engineer-uncle who designed and built his own house. As a young girl, Denise began drawing floor plans for members of her family, and even for neighbors back in Fremont.
Denise earned an architecture degree from California Polytechnic State University, San Luis Obispo, but credits a semester abroad in Copenhagen, Denmark for broadening her sense of what architecture could do. "In Denmark, they really value what architects do, and how design can improve our lives," she says. "Everyone in Copenhagen seemed to know the names of the architects who had designed their famous buildings. And traveling across Europe, I enjoyed how creative people were about re-using buildings, like a small-town chapel that becomes a community center. It was just really awesome to see that: how much buildings can impact the lives of people."
First Tour of Duty at AB design studio
When she began at AB in 2007, Denise got an opportunity to contribute right away, despite being young—and received the right encouragement. "I remember I was basically managing a couple of my own projects and feeling a little insecure about it," she explains. "Clay said, 'Throw your hat over the fence and you'll figure out how to get it.' That stuck with me a lot. They never cared about how much experience I had. They just saw my potential. They were pushing me to believe in myself more."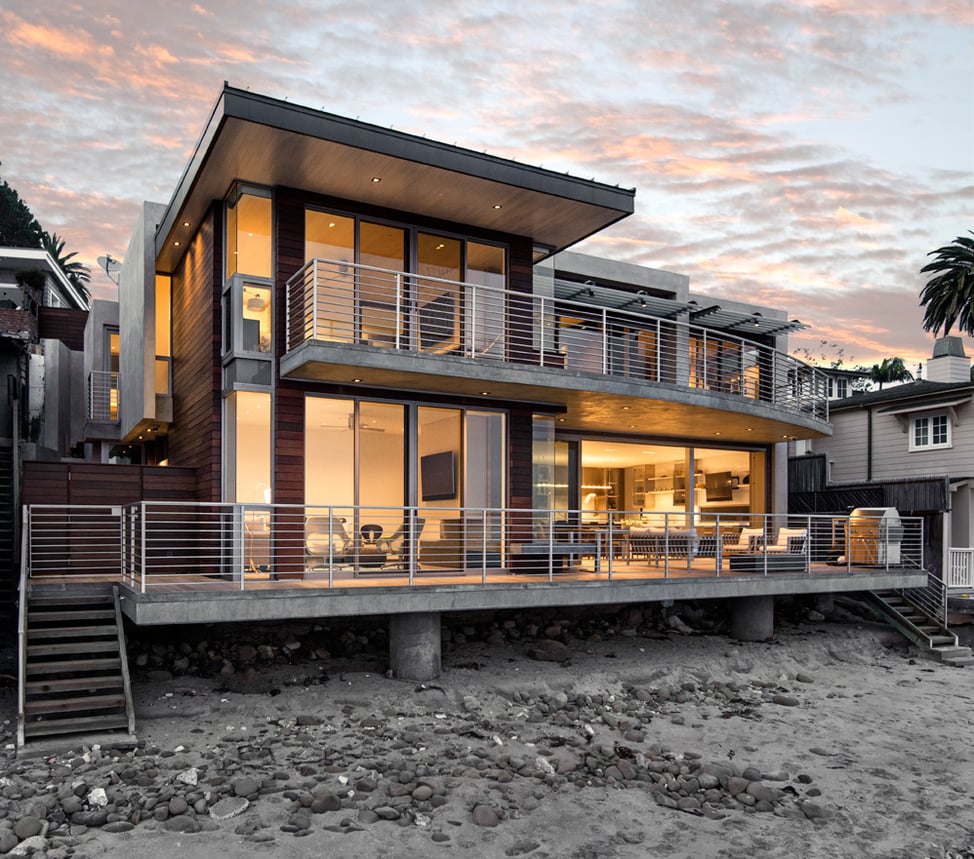 [Image credit: Modern Beach House project, Montecito, CA - AB design studio, inc.]
That experience paid off. After Denise became AB's last layoff during the Great Recession, when she later found work with San Francisco firm Valerio Dewalt Train, she remembers "They told me, 'I don't know who you worked for, but you are at the level of someone with six years of experience, even though you only have two or three years.' I credit Clay and Josh for that."
San Francisco and Chicago Years
That same San Francisco firm gave Denise not only seven years of employment from 2011-18, but the chance to work her way up into the role of Project Manager. Valerio Dewalt Train's Bay Area offices focus on workplace interiors, which meant that Denise was able to work on a number of tech company offices including eBay, Google, and Adobe. She started to understand how designing better offices could really impact people's lives.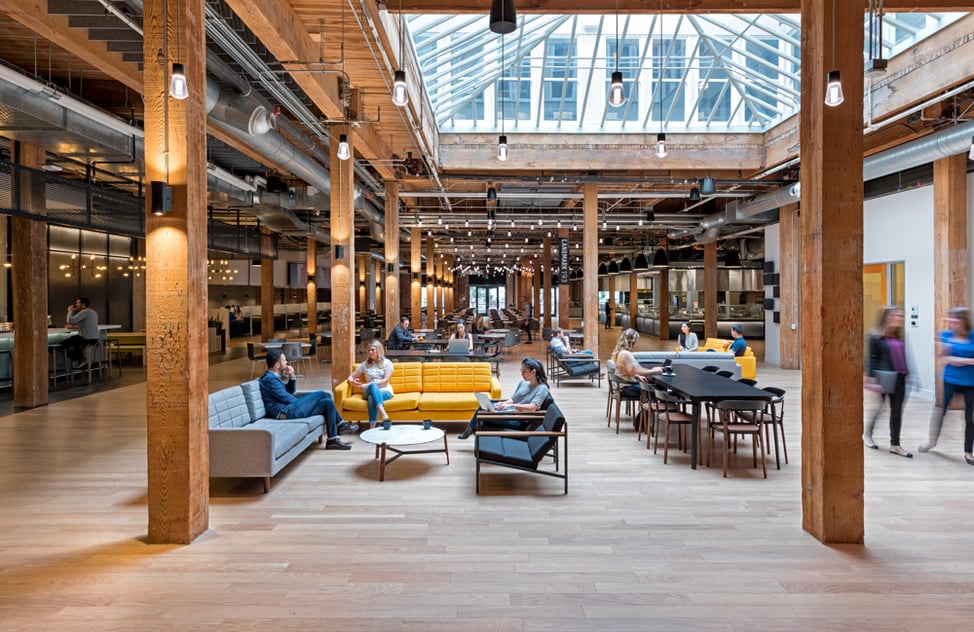 [Image credit:Adobe Headquarters, San Francisco, CA - Valerio Dewalt Train]
After one office project was completed, in which the design team had switched out the tall old cubicles, added more natural light and created more hang-out space, "The client told us that people just seemed happier, and more people were talking to each other," she remembers. "I've definitely had office clients come back and tell us that they see the difference in their employees, that they're not just happier, but more productive."
In 2018, Denise decided to move to Chicago, and worked for two more firms: JGMA and Lamar Johnson Collaborative, both of which gave her chances to work on projects benefitting the community. One design became a finalist for the Chicago Prize, an $8 million grant from the mayor's office. The project, which unfortunately did not end up winning the prize and remains unbuilt, would have renovated an abandoned former elementary school building on the south side of Chicago into a combination workforce training center, financial education and community center. "That was when I finally felt like I was doing something that could help people," Denise recalls.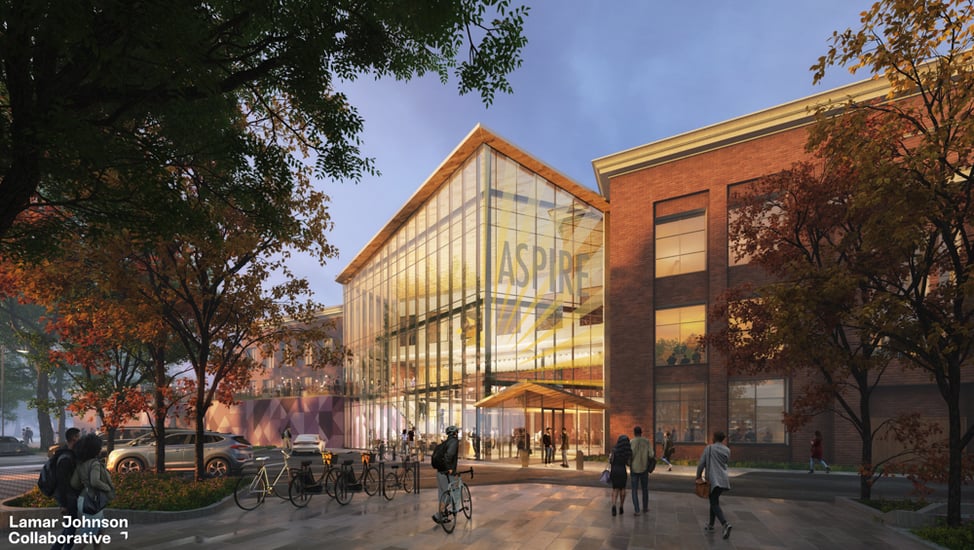 [Image credit above: Aspire Center Concept, Chicago, IL - Lamar Johnson Collaborative]
Returning to AB
During the pandemic, Denise and her husband David decided they wanted to leave Chicago's cold winters behind and move to Los Angeles. Denise was also happy to return to the West Coast, where life feels just a little bit more progressive. "Everyone's super friendly," she says. "We've gotten to know our neighbors and we have everything we need pretty convenient to where we live, to the point that my husband and I are looking to buy a place, because we really, really like it here." And as a lover of the outdoors, she's felt even more at home after discovering a few new favorite hiking trails, including one that winds behind the famed Hollywood sign.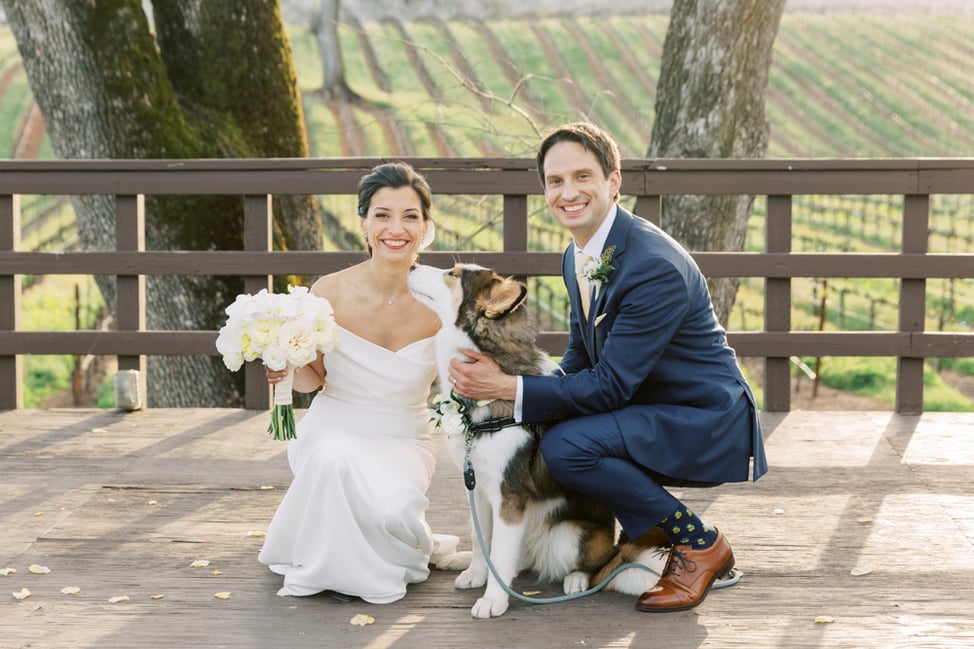 [Image credit: Denise with husband, David, and fur baby, Mila, BR Cohn Winery, Sonoma, CA - Denise Rocha]
Denise is hoping that as AB grows its presence in L.A., there will be opportunities to work on projects that positively impact the community, much like the workforce training and community center that she was working on in Chicago.
She takes pride in being a woman of color working in a traditionally white-male-dominated profession, and when she's not at work, or hiking with her husband, or running half marathons, she likes to volunteer her time to mentor young aspiring designers in whom Denise sees a little bit of herself. She has proudly participated in the ACE Mentor Program and GirlsBuild. Denise also enjoys dedicating time to projects such as Canstruction and Habitat for Humanity's Women Build, where she can team up with colleagues in the design industry to benefit the community.

[Image credit: Denise (far right) with Habitat for Humanity's Women Build team - Denise Rocha]
We're lucky to have Denise in our L.A. studio and back on the AB team. Project managers are the glue of our firm, able to combine creative thinking and practical know-how in a way that gets our designs across the finish line. Yet as Denise's career reminds us, design is ultimately about people. "Relationships are the key to success in business: AB's relationship with Denise, spanning 15 years, is the definition of success in a collaborative design firm," says firm Co-Founder, Josh Blumer.
Denise is backed up by the support of our talented and experienced architecture, interior design and urban planning team of professionals. Our 30 person staff is well-equipped to tackle a multitude of signature design driven projects of all sizes and typology. Our team develops well-rounded and thoughtful solutions to today's greatest design challenges. We deliver by leveraging the talent of awesome people, like Denise, who deliver our proven process each day; we deliver using a simple formula - LISTEN | STRATEGIZE | CREATE | DELIVER.
AB design studio, We produce signature designs for those who want more than just a building!